Mayhem At Manchester Airport
Millions more Brits are taking to the skies again and booking holidays since the Covid outbreak in 2020. Consequently, airports across the UK are seeing a dramatic increase in passengers.
Manchester Airport, the largest airport outside of London, has been the target of hundreds of irate travellers after finding they have to queue for long periods of time.
The first sign of trouble
The first complaints arose on March 16th when queues were snaking into the car park and holidaymakers were queuing for longer than usual at Terminal 1. An airport spokesperson blamed it on higher than usual passenger numbers and baggage that didn't comply with security rules. A high percentage of airport staff were absent with sickness too, rumoured to be Covid-related.
Additionally, the airport made over 2,000 redundancies during the pandemic, due to the financial implications of lockdown and thousands of flights being cancelled.
Lucy Moreton from the Immigration Services Union stated that Border Force is catastrophically under staffed. She added that it can take almost a year to train new staff. Standard vetting procedures are taking up to six months rather than 14 to 15 weeks. Border Force has said that security is of utmost importance and that they will not take shortcuts in the training of new recruits. However, the agency is also struggling to draft new staff, with many job roles not being filled.
April sees more delays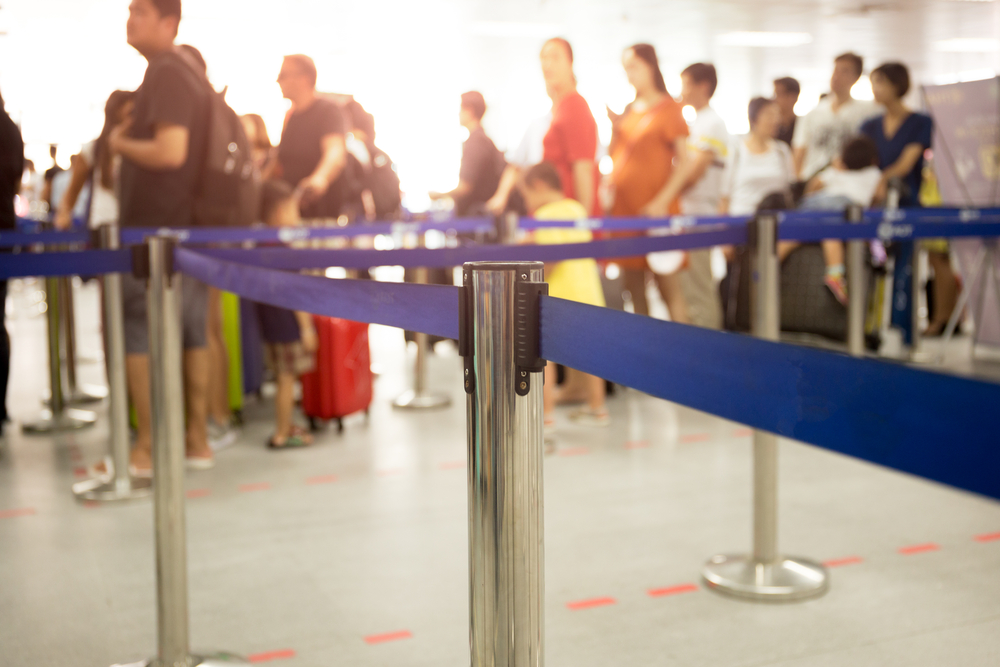 April was plagued with much the same problems. Manchester Airport advised passengers to arrive early, yet the airport was blaming the long queues on passengers arriving early, only adding to the confusion. Some flights were cancelled, notably British Airways and EasyJet, which struggled the most. Passengers were transferred to other flights adding to further delays for travellers. Some passengers have missed their flights due to the delays in getting through airport security.
British Airways also suffered issues with baggage reclaim, with some holidaymakers forced to leave the airport without their luggage. Some claim it was another five days before their luggage was forwarded to them. This is not the first time that British Airways has failed passengers, after suffering a major data breach in 2018.
Councillor Pat Karney emphasised that airport management had drastically underestimated how quickly passenger levels would recover post-pandemic. It certainly appears that the airport made a gross misjudgement in pre-empting peak-time traveller numbers and didn't hire or train sufficient staff to deal with the rise. Coupled with that failure, salaries for new hires are still at 2019 pre-pandemic levels, offering little incentive to applicants.
No signs of slowing
Not surprisingly, more complaints were made during the Bank Holiday weekend at the beginning of May. On Monday, May 2nd, passengers were once again queuing into the car park at 4 am. Twitter user Andy Clarke observed that of the twelve security lines, only one was open and in use. Angry passengers were describing the situation as crazy, a shambles and an absolute disgrace.
Chief Executive Charlie Cornish agreed that Manchester Airport can't "give passengers the level of service they deserve over the coming months" due to staff shortages. Mr Cornish confirmed that waiting times could rise to over 90 minutes at peak times during the next few months. On the contrary, passengers at Manchester Airport tell a different story of much longer waiting times.
How can you ensure a quicker transition?
Check online with your airline to see what time is the earliest you can arrive at check in
Become familiar with the latest security rules, such as no liquids over 100ml in your baggage. Have your electrical devices ready to place in the tray for checks.
Check in online via your airline's website or app.
If at all possible, travel with carry-on luggage. Ensure the luggage complies with your airline's size restrictions and contains no forbidden items. Check your airline's website or app for further details.
Fast-track passes may help cut down waiting time, but there are still some delays with fast-track.
Update your contact details so that the airline can contact you in advance if there are any issues.
Keep some emergency cash for food and drink during long delays, or even flight changes you may need to make. Pixie Loans can help if you need a cash advance.
Jet2 offers a twilight bag drop at a handful of UK airports, Manchester included. This allows you to drop your bags off the evening before, ensuring some of the delays are bypassed.
All in all, it makes for the perfect storm, with each department shifting blame. Delays are expected to last through summer and later into the year. With delays across the UK on the rail networks due to works and upgrades, maybe it is worth staying nearer to home in the near future?