Money Saving Tips For Parents
Saving money as a parent is challenging and can seem almost impossible at times. A recent study by CPAG (Child Poverty Action Group) has found that the cost of raising a child, from birth to 18 years old, is approximately £75,436 for a couple or £102,627 for a single parent. These figures also exclude housing costs and childcare, so realistically, that figure will be much higher.
Here are some terrific money-saving tips for parents.
Plan, plan, and plan some more!
From meal plans to budgeting for clothing, thorough planning is key to saving money. Begin with what money comes in, eg., salary, benefits, etc. and what your expenditures are, to ascertain how much is leftover. Use our handy monthly planner to work out what you have left. If you feel to be super-savvy, you could use it as a weekly planner for a more detailed breakdown.
Monthly expenditure example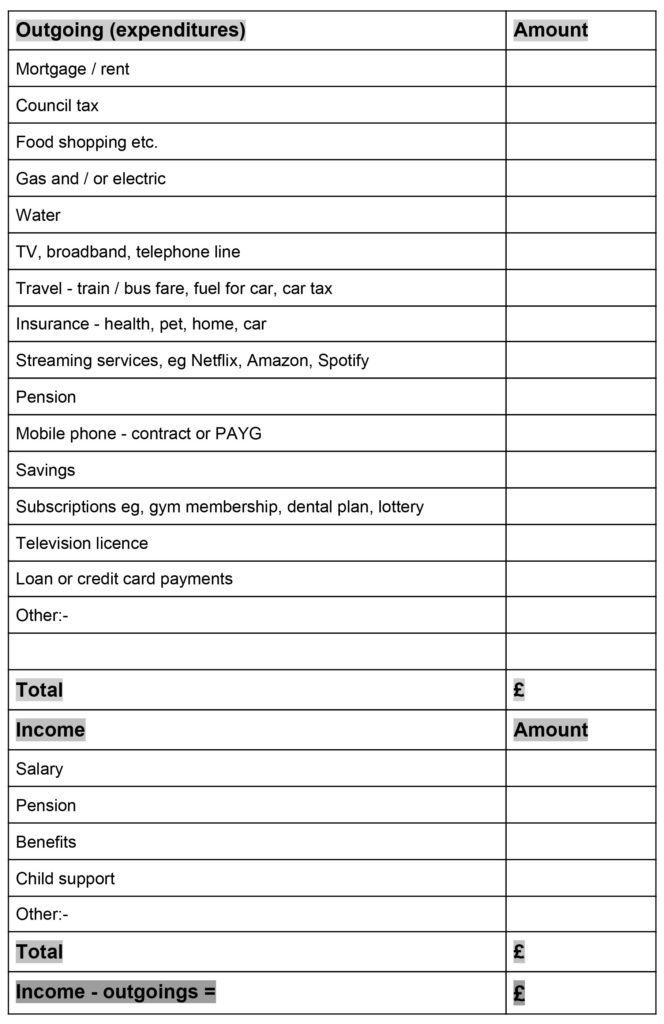 You can download the monthly expenditure sheet here.
While looking at what you spend every month, see if there are any lapsed subscriptions that you are paying for but no longer require. Is there a magazine subscription that you can cancel? During lockdowns, are you able to freeze your gym membership? Do you pay for a streaming service that you rarely use?
Shopping
Have a look at the thousands of free online recipes or dust off the old recipe books you've not looked at for a while for ideas.
Plan ahead for your family meal – by doing so, you can make a shopping list for exactly what you need and stick to it! Reduce the temptation to overspend on unnecessary items. It also helps you not to forget an item; how many of us have gone back to a supermarket and actually come out with just that one item?
You can buy cheaper cuts of meat if you use a slow cooker or slow roast. Leftovers can be placed in the freezer for another day. You could make the joint of meat last – roast dinner on day 1, cold meat and salad on day 2 and then the remainder in a soup for day 3 (great to use the remainder of a whole chicken which can be boiled and produces the best stock!)
Are those 'buy one, get one free' deals worth it? If it's toothpaste, or toilet roll (non-perishables), then it's likely it will be a good buy, but if it's something that you don't really need then it's simply false economy.
Apply for the supermarket's loyalty card if they have one. It may give you a money-off voucher, or points towards meals out or simply just off your shopping bill.
Try to avoid buying takeaway coffees and take your own. The same applies to buying a sandwich everyday. If you spend, for example, £5 a day on such items, that's £25 a week or £100 a month you could save!
Pay a visit to the cheaper supermarkets, you may be surprised at what they have to offer!
Are you claiming all that you are entitled to?
Are there any benefits that you may be entitled to yet aren't claiming? If you are currently pregnant, dental care is free on the NHS and for 12 months after having your baby.
The Government offers Sure Start Maternity Grant which is an allowance towards your first child or a multiple birth if you already have children. If you live in Scotland, click here for Pregnancy and Baby Payment.
If you qualify, the Government has an initiative called Healthy Start. You will receive vouchers to help with staple foods such as milk and fruit etc., redeemable at over 30,000 outlets. If you live in Scotland, you need to apply at Best Start Foods.
Child Benefit is an allowance towards a child under 16 years, or under 20 years if they are in approved education. For the eldest child, or only child, you receive £21.05 per week, but paid on a 4 weekly basis. For a second and additional children, you receive £13.95.
The gov.uk site has a wealth of information to help with various benefits, be sure to visit to see what else you may be eligible for.
Savvy buys, selling and swapping
In the age of social media, there are hundreds of local groups that sell, swap or offer items for free. For baby and child items, these things are often like new as children very quickly grow out of clothing and toys. Check out Facebook's local groups, Facebook Marketplace and Freecycle.
And don't forget, you may have unwanted items. You too can utilise Facebook Marketplace or eBay to sell your items.
If you're out shopping, or browsing online, and see a perfect gift on offer, even if that person's birthday is months away, buy it at the discounted price and you've already made a small saving.
Consider whether that named brand is worth the extra money; sometimes, you really are just paying for the name and not necessarily superior quality.
If there is something your child would love to have, why not let Granny and Grandad buy it for them, either for a birthday or Christmas gift if necessary?
Children and child care
Child care can be a very expensive outlay. If you can help another parent, maybe you can arrange a deal whereby they help you out too? Even if it's just a drop off or pick up from an after school event, every little helps.
The Government offers help towards childcare in the form of tax relief. You need to set up an account and for every £8 you pay in, the Government will add a further £2. If you are eligible, you can claim this at the same time as 30 hours free childcare.
If you already claim Working Tax Credit, Child Tax Credit, Universal Credit or childcare vouchers, you will not be able to claim Tax-Free Childcare at the same time. Depending on your situation you may need to work out which scheme suits you better. There is a childcare calculator to help you work it out.
Earning in your spare time
You could consider making extra cash in your spare time. There are a number of opportunities depending on the amount of time you have free and when you are free. Companies like Bodyshop and Avon allow you to work from home and can be done in your free time.
There is a large market with online surveys where you can get paid for trying products or giving your opinions, all from the comfort of your sofa. You may receive a cash payment, but many offer vouchers towards various stores or online merchants for you to exchange.
Comparison and cashback sites
Comparison sites are a good go-to when looking for a better deal with any of your contracts. These sites can search for better deals for:
Utilities, such as gas and electric
Home insurance
Car or motorbike insurance
Pet insurance
Mobile phone contracts
Broadband deals (click here for an extremely competitive quote)
Life insurance
Credit cards and loans
You may find if you get a better deal than your renewal quote that your current service provider may match or even beat it!
Credit
There are a few things to remember when it comes to borrowing.
Whenever possible, pay any credit card balance in full. It shows you can manage credit very well to your creditors and is positive for your credit report. Click here if you want to know more about a credit score.
Sign up for a free Notty Account. Notty has much to offer, including defining your social media credit scores, which credit companies may use to assess you.
Many companies offer 0% interest rates on balance transfers. If you know you are able to pay your balance off in the time period, this could save you money in interest fees by switching.
Make a note for when bills are due, if you haven't already got them set up for automatic payment. Missing payments results in surplus charges and will affect your credit score negatively.
Some banks offer free overdrafts up to a certain amount. Ask your bank if you are eligible or switch accounts to one that does have this service.
Saving
The physical aspect of putting money away can feel daunting if you are on a tight budget. This is more so when you need to think about saving for your future. Even just putting your coppers, or anything lower than 50 pence, can all add up when the container is full! Can you afford to put away every £1 or £2 coin you get – you'll see far greater results if you can!
There are money saving challenges too. The 1p saving challenge asks you to put away 1p on day one, 2p on day 2, 3p on day 3 and so on. You can save up to £671 in a year! The 52 week challenge works on a similar premise by putting away £1 in week one, £2 in week 2 and so on. You could save a tremendous £1378 by the end!
Maybe you could transfer 1% (or more) of your monthly salary every month to a savings account? This could be a helpful backup for any emergencies once it begins to build.
Look into joining your workplace pension too. Your employer will automatically deposit a percentage of your monthly salary into the pension scheme. The majority of employers will also add to this.
Try a no-spend month. It is exactly what it implies – don't buy a coffee on the way to work, take a home-made lunch to work or cook a meal for friends instead of going out. The aim is to only buy necessities for that month. Your children will love to spend time with you playing board games or walking in the park, and it costs nothing. There is no hard and fast rule, just do your best!
Deals and offers
Sign up to mailing lists or apps with the companies that you use and enjoy. Large restaurant chains often email great deals, such as Kids Eat Free, or a kid's meal for half price with a full paying adult. You may get access to sales earlier with some companies, or loyalty discounts.
If the supermarkets you frequent have a loyalty card, it is worth signing up. Whether it's Morrison's More, Tesco Clubcard or Nectar points, the points soon add up and you can redeem them against a food shop or even in restaurants in some cases. Boots Advantage card offers points on the items you buy, which when saved can help towards Christmas gifts etc.
If you enjoy days out, investing in a Railcard may be a good idea. You can save up to a third off your ticket costs. Click here to find out more.
Cashback sites are a good way to help save money too, if you remember to use them! Topcashback and Quidco are the top two contenders. All you need to do is sign up and enter the name of the merchant to wish to shop with. This will direct you to the merchant's main website and any of your purchases are tracked. You should receive a percentage anywhere from a few weeks to a few months later and you can transfer the amount to your bank account, or allow it to build up for a while before you do so.
Notty has a great value 'Market Place' with superb offers for account holders. Sign up is free – saving yet more cash!
If you can implement a few of these tips into your day-to-day life, you are well on your way to stretching your finances and allowing them to work more effectively for you.