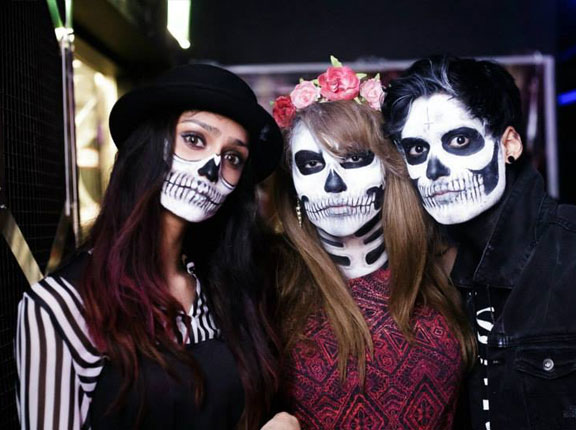 15 tips and tricks for Halloween on a budget
Halloween is just around the corner. Do you want to have fun but you're on a budget?
Consumer analysts Mintel suggest that Britons will spend over £300 million on Halloween outfits, decorations, and sweets etc.
Budgeting will require some advance planning, but you will reap the rewards! Use websites such as Pinterest, Instagram and Buzzfeed are great for inspiration. Here are 15 tricks and tricks for Halloween parties, shopping and more.
Visit your local pound shop. B&M, Wilko and Home Bargains will also stock everything you will need from decorations to sweets and even outfits!
Check out the last-minute sales and promotions– many stores sell products off cheaper in the final hour, ready to make way for Christmas stock.
Host your party after dinner time, that way you will only need to provide snacks and nibbles. You could even ask your guests to chip in and each brings a plate or dish of something.
Plan on what food make and what to buy. Some stores have great discounts if buying in bulk, whether it be ingredients or the finished product.
Tubs of sweets and chocolates can come in at a better price when buying a large amount. Remember you don't have to give out sweet things. Glow sticks, vampire teeth, bubble wands, stickers- kids will love anything!
Buying a new outfit is not a necessity. If your daughter has an old princess dress, rip it, add fake blood, and make it look 'dirty', add the face makeup and voila, you have a zombie princess! This works well with any clothing.
Pick up cheap bandages for that special 'mummy' in your life! This is a very simple but effective look (for reference, toilet paper will not stay on!)
Look at second-hand outfits too or see if friends are willing to do a swap or pass on a hand-me-down.
Have you a beach bucket leftover from summer? With a little glue, card, and paint, this could be turned into a carrier for any goodies on the trick or treat rounds.
For decorations, there are many inexpensive options available. Blow up small or large balloons and cover with a white sheet (cut to size), draw on a haunting face and suspend from the ceiling with string and your ghosts are ready to haunt. Spiderwebs can be bought for next to nothing and strewn/ hung everywhere for a spooky atmosphere. Cut out cardboard into tombstone-shapes, paint dark grey and add wording such as RIP etc. Pathways can be lined with candles too. Battery operated candles are available to buy now which are much safer when there are flowing outfits around! Using a black card, you can cut out a bat shape and hang from anywhere you like, including near a light source for a spooky silhouette.
There are many recipes that can help you make or bake some cute little snacks. From chocolate buns with liquorice legs and edible eyes masquerading as a spider to hot dogs wrapped spirally in a strip of puff pastry and baked for a 'mummy hotdog'. As a sweet treat, how about jelly with different coloured worms inside?
Don't waste money on a Halloween CD for the perfect playlist, create a playlist from Amazon or Spotify. With tracks such as Ghostbusters, Thriller, Monster Mash, Bat Out of Hell, Time Warp, Ghost Town, Werewolves of London, and Highway to Hell, you'll soon have the party rocking!
Party games don't have to be extravagant. Good old-fashioned bobbing for apples is always good fun. You could play pin the spider on the web or place any surplus pumpkin seeds (after the carving) into a jar and guess how many are in there. Throwing glow rings over wine bottles and pumpkin bowling is a sure-fire way to induce healthy competition! Stack some toilet rolls on each other (draw on ghostly faces for extra fun!), bowl that pumpkin and see how many you can knock down if any!
Finally, be sure to look in the shops after Halloween is over- you'll find some great discounts for items that you can use next year!
Before you rush to the store to buy your Halloween costume, check out what materials you already have that could help create the perfect outfit.
We hope you have a frighteningly good time!